Tangibility has been leading the Western Australian promotional marketing industry for more than a decade.
We understand the fast-paced, ever-evolving market, and pride ourselves on being agile and able to create powerful communication tools that help our clients solve problems and achieve their strategic objectives. We can do this because we work closely with our clients over the long-term to truly understand their brand and goals.
Our approach has given us the privilege of helping some of Australia's – and the world's – most recognised and valued brands engage positively with their audiences, build credibility, create favourable brand impressions, and reinforce their social license to operate.
We're not limited by traditional channels. We create multi-sensory experiences that position our clients' brands and messaging into their target audience's lives for longer than any other medium.
Our team of creative communicators believes that merchandise is much more than a product with a logo – it's an opportunity to tell a story that generates results.
What we do
We transform merchandise into purposeful promotional products that inspire people to engage, think and act differently. Creating cut-through in a world full of competing messages is challenging, but we can do it because we see a product's potential – to communicate, educate, start a conversation, evoke feelings.
Our products are specifically designed to help our clients share their brand story – more meaningfully, more effectively, and in a way that lasts positively over time.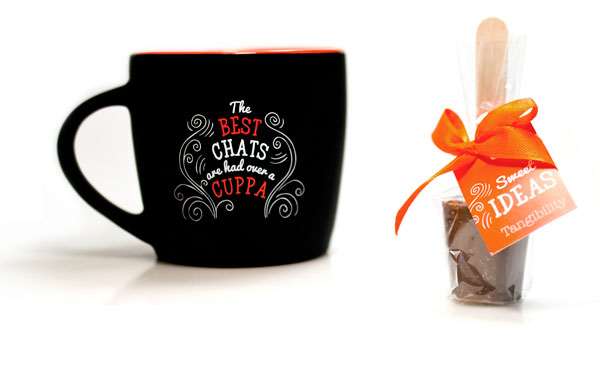 We encourage you to request a free sample pack of the branded merchandise and apparel that we created for ourselves to showcase what can be achieved. Each piece consistently communicates our brand and story and demonstrates how to communicate differently, engage your audience and improve the return on your marketing investment.

To experience our passion and creativity contact us.
Tangibility is a member of: